Who we are
Made in Corpus Christi, LLC was established to build community, pride, and connections, right here in Corpus Christi, Texas. We've gathered the best local designers, makers, & creative forces together in one incredible venture–and can't wait to share it all with our city and all who love it.
If you are interested in working with us as a designer or a maker - please complete our online application to be considered.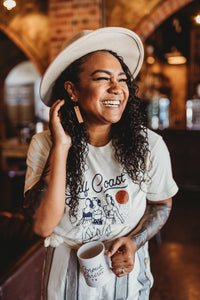 our products
We are incredibly proud to be bringing an incredible array of products from across the city to our shop–both online and in-store!
The designers, makers, creatives, and artisans in Corpus Christi are truly and remarkably something special. Each piece offered here by these gifted souls is meticulously made and every design is thoughtfully created. 
When you purchase a piece from our shop, know that you are contributing directly to the success of small, independent businesses right here in our community.
THANK YOU for shopping local and supporting a growing community filled with so much talent, I don't think we'll ever run out of new pieces to share.